Which is why I'm gonna go ahead and link to all of the places I found images, stock, etc. for redoing my cutesy bloggy. Thanks goes out to all of these talented people for so kindly giving their work to people like me for free!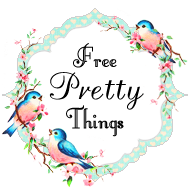 Pugly Pixel
- So super cute and so many freebies!
MellowMint
from deviantART.
And! I used
Picnik
and
FotoFlexer
to edit everything (bounced back and forth would be a better way of putting this). Both photo editing sites are free, they just have different features I like so I mix and match. Most fonts I use come free from
DaFont
or are found via the two editors. SO happy with how everything came out and can't even say how excited I am to start blogging again. I've neglected my baby for far too long. XO.